THE PROFI SUPREME POST DRIVER. NEW SUPERIOR BUILD QUALITY WITH VASTLY IMPROVED FEATURES
Features:
Patented fully automatic twin pulley mast- no other manual or mechanical means are required to alter the length of hammer stroke. This is without doubt the simplest, tidiest and efficient telescopic mast on the market.
400kg hammer travels full length of mast at all times on the Bryce Profi Supreme Post Pounder
Unique mast lubrication system
Hitting height 3.5m under the post cap with the hydraulic legs jacked up
Rotary wearpads fitted to both sideshift and backshift (Patent Pending)
New state of the art hydraulics - faster, smoother, safer post pounder
New mast tilt ram geometry - increased mast tilt in and out
New giant superskids on hydraulic legs - less vibration and more floatation
New state of the art postcap
New generation top link hitch point
4 hose burst safety check valves
Options available:
Hydraulic post twister with adapt-a-cap (AAC) (Patent Pending)
Rock spike with rock spike transfer system (RSTS) (Patent Pending)
Tool box
Tow bar
Hammer weights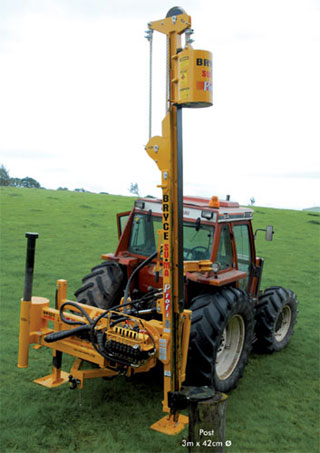 The maximum clearance under the post cap is 3.52m. This is standard specification and guaranteed on this post pounder.